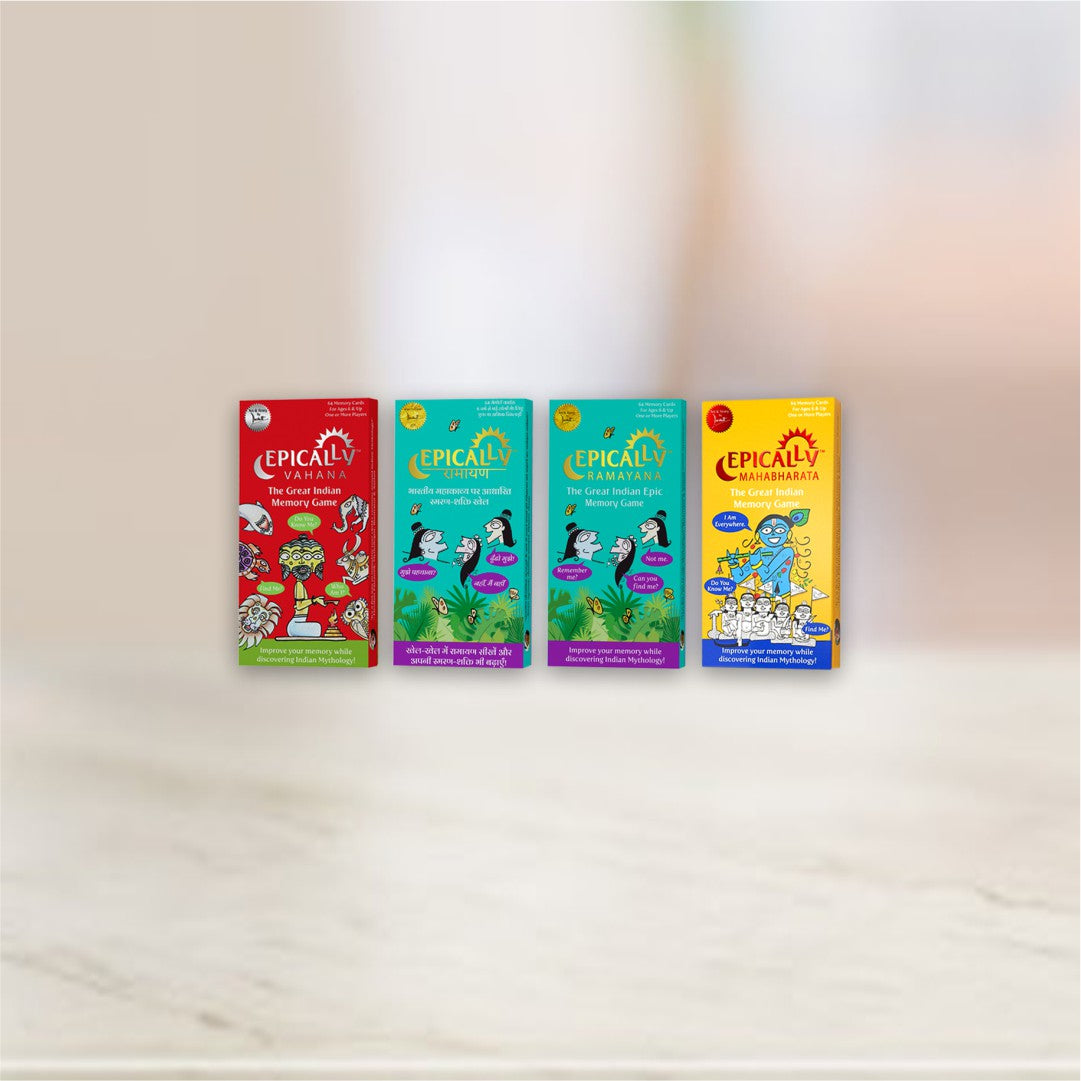 Finally its here our all New Memory Games Epically Mahabharata and Epically Vahana and our best seller Epically Ramayana in Hindi.
In June 2020 we launched Epically a series of games based on Indian values and culture. Physical games that families can play together as one with hours of fun and learning all built into one. In December 2020 we launched Epically Money to help build great money habits in our children in a fun way. And now eight months later we are super excited to launch 3 games together Epically Mahabharat, Epically Vahana and our best selling Epically Ramayana in Hindi. We will start shipping the new games from 1st Sep 2021.
 All our games are launched in collaboration with India's well-known mythologist, Mr Devdutt Pattanaik, who has written 50+ books on Indian Mythology explaining its relevance in present day context. The beautiful illustrations are drawn by Devdutt himself and all the stories in the cards are based on his best selling books.
Epically games are interactive and fun games for whole family packed with learning and zero screen time.
 Our Indian mythology is vast and deep. It is a storehouse of wisdom which are even relevant today. Generally children can experience it only in form of books or watching animated cartoons and TV series which are for one time consumption.
Playing the games repeatedly helps them go deeper and get closer to the stories and ask meaningful questions.
 All memory games are created for children above 6 years of age. Even though we have children as young as 4 years playing the game well and trying to read the words. All Epically games come in a sturdy and compact box, perfect to carry for travel and vacation.
Our Games always come with a "Love it or Return it" guarantee. Either you love our games or return it for no question asked. It's that simple.
Epically Mahabharata will take them through one of the most dynamic and complex mythological tales and its stories in the most fun way. 64 Memory Cards: 32 Art Cards & 32 Story Cards, large size made with sturdy and thick high quality paper to last long. Easy for children to play and handle. It Includes character most kids are likely to know Arjun, Krishna, Bhima, Yushishthira, Duryodhan. Also includes characters many kids may not know Madri, Vyasa, Shikhandi, Dusshala.
Epicallly Vahana is a fun way to introduce the mythological animal kingdom to our children. Children match the. Make learning Indian mythology fun for kids by matching illustrations of Gods and Goddesses (deity cards) with their Vahanas (animal cards). A great conversation starter for kids on Indian Mythology . Once kids learn about various characters they will come to you for more stories about Indian Mythology. Your story time will suddenly get enriched with stories from Indian Mythology.
 Buy Your favourite Epically Game from Here.