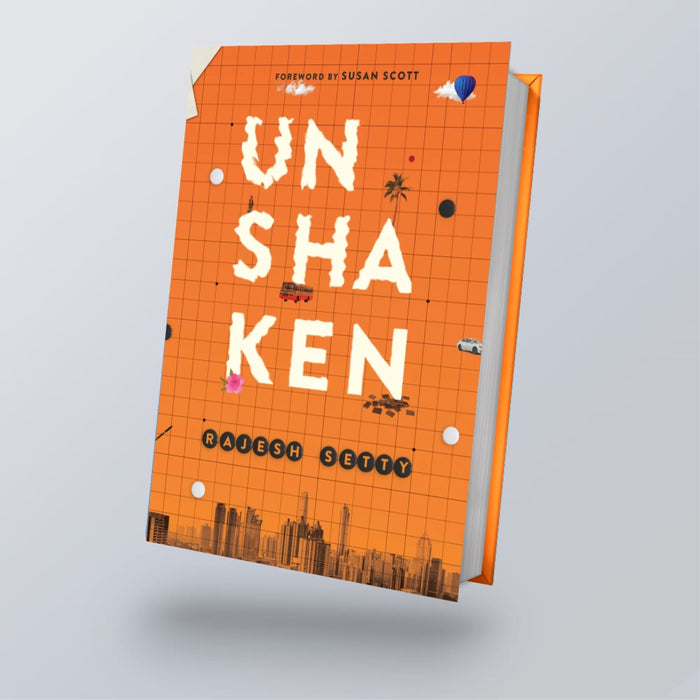 Unshaken By Rajesh Setty
Save

Liquid error (snippets/product-badge line 32): Computation results in '-Infinity'

%
In "Unshaken," Rajesh Setty unfolds a personal and profoundly moving journey of resilience, courage, and transformation. This is not just a book; it's a beacon for everyone striving to accept and overcome life's unpredictable challenges with grace and dignity.

When life throws curveballs, how do you respond? Rajesh Setty's life is a testament to overcoming challenges with unwavering focus, transforming fear into faith, and reshaping mind over body. His journey through a Parkinson's diagnosis at age forty-four illustrates the power of mindset and the importance of embracing the unexpected.

The narrative explores the amalgamation of challenges, the unexpected twists of life, and the sheer power of single-minded focus. Readers will be equipped with invaluable frameworks to navigate through life situations head-on and convert every problem into a package of possibilities. Rajesh's raw and open narration is a canvas reflecting lessons in persistence, positivity, and the art of keeping moving.

Key Takeaways:

Gain life-changing insights into facing and embracing challenges.
Explore the art of moving forward and finding gratitude in every situation.
Learn to pivot, adapt, and see possibilities in seemingly impossible circumstances.
Discover the profound lessons one can learn from their body and illness.
About the Author:

Rajesh Setty, a dear friend to many and a beacon of inspiration, is renowned for his creativity, generosity, and positive outlook. He is an epitome of resilience and courage, revealing through his journey how to turn life-threatening illness into life-changing insight and enlightenment.

Praise for "Unshaken"

Alok Ohrie, President and Managing Director, Dell India, lauds the book as a "succinct impartation of life lessons" that is hard to put down.
Seth Godin, Author of 'This is Marketing', appreciates Rajesh's reminder about the countless choices we all have and his inspirational embrace of possibilities.
Daniel H. Pink, NYT Bestselling author, emphasizes that the lessons from "Unshaken" will stick with you for life.
Tom Peters, Author of 'The Excellence Dividend', found the book literally "unputdownable" and extremely affecting, causing reflection and a range of emotions.

Invitation to Readers:
Embark on this enlightening journey with "Unshaken" and find your inner strength to face life's curveballs. Discover the universal truths about the human condition and embrace the endless possibilities life presents, even in the toughest times. Available now on [Your Online Store].

This book is a guiding light, an inspiration that is not about learning but about affecting deep within, enabling reflections, smiles, discomforts, and ultimately, immense comfort and insight. This is not just a memoir; it's a soulful exploration of life and its boundless possibilities. Get ready to be deeply moved, to reflect, and to see the boundless possibilities in what currently seems impossible.