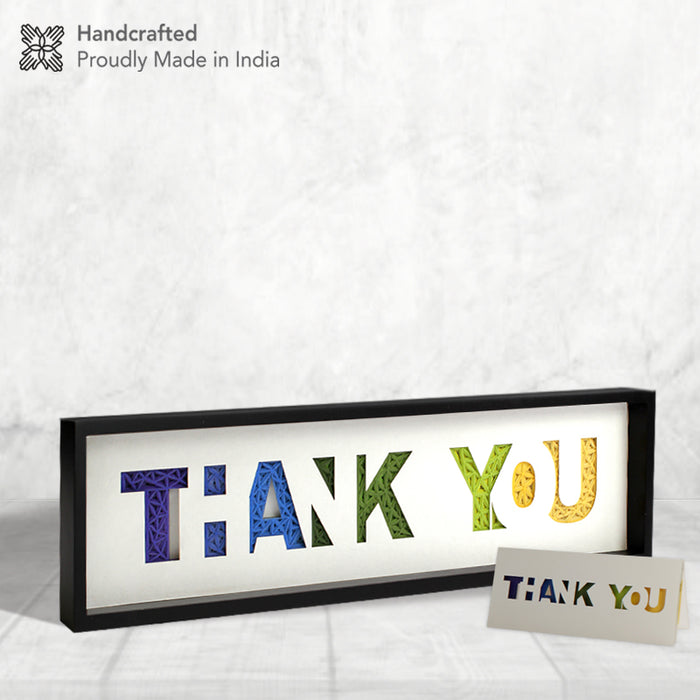 Thank You Gift for Your Best Customer, Thank You Gift for Boss & Team Members. Gratitude Gift
Save

26

%
Original price
Rs. 2,690.00
Current price
Rs. 1,990.00
Shipped in 2 to 3 days
Sometimes a simple Thank you goes beyond the two words, and there is a lot you want to say and express. This Thank You Gift can help. Gift it to your best customer, boss, or an exceptional team member who really deserves a special Thank you. Make them feel special and appreciated. 
What's Special? 
This Thank You frame is made by cutting layers of paper with tiny triangles of multiple sizes and then carefully layering them in a custom frame that's painted to perfection. The typography chosen is also special for some letters are hidden, mimicking the realities of life. Everything is not known, but a leader is prepared for both the seen and the unseen. These frames have been designed by Team Pinnacle, who has designed some of the most remarkable awards and recognition products in the country for over 21 years. 
Dimension: 4.6" Breadth, 18.25" Length, Height : 35 mm.
Recognition for a Leader Who Cares.
Everyone recognizes people now and then. Every company has a recognition program, and then some go above and beyond. Leaders who are always scouting for the best idea to recognize their team members with something different and unique. This series from Pinnacle Select is exactly that. Unique, Creative & Thoughtful. Designed to make the receiver feel super special. 
Complete with a Gift Box and a Creative Card to Handwrite your note and make it even more special. Make this piece your own or gift it to people who matter to you in your work life or personal life. They deserve something special.
Great Gift Idea
Confused about what to buy for your best customer, boss or team member? Something that will tell them you care. Look no further. This Thank You Wall frame will become their priced possession for a long time. 
Part of Pinnacle Select Series
This Thank You frame is a part of the Pinnacle Select Series. Products designed by Team Pinnacle to recognize and thank the best of the best leaders in your team and customers. A Recognition so special that you want to take the time to find the right thing yourself. You want something unique and different. This Thank You Wall art is your answer. Click here to view the entire series
About Pinnacle
When you want unique, memorable, and outstanding ideas to recognize and thank your customers, you come to Pinnacle. A brand trusted by leading brands of India. Manju Jain and Nidhi Jain Seth (Mother and Daughter Duo started Pinnacle in 2000. A design and manufacturing company for creating recognition products for over 21 years. Till now, they have shipped more than 30 lakh custom-designed products for their customers spread across India and the world. www.pinnacleworks.com.