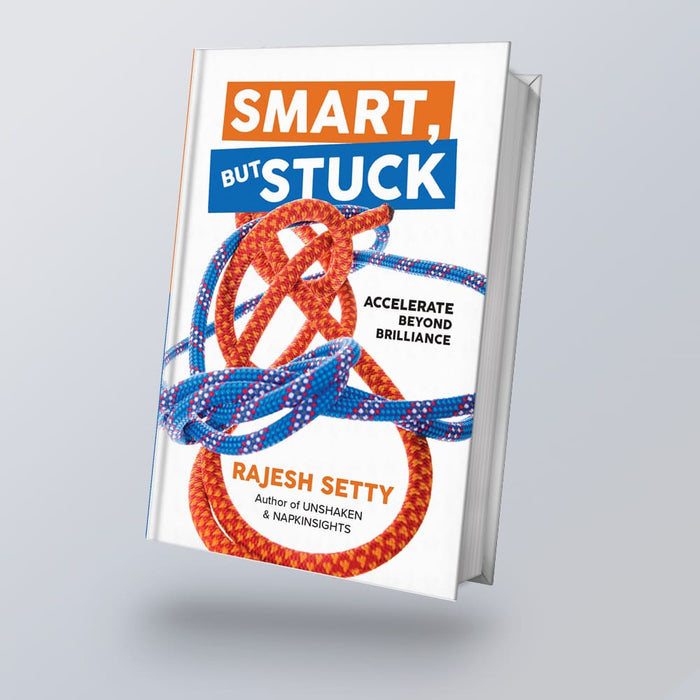 Smart, But Stuck By Rajesh Setty - Accelerate Beyond Brilliance
Have you ever found yourself seemingly trapped by your intellect? Smart enough to navigate life's most challenging situations, yet finding yourself frequently mired in unseen roadblocks? Rajesh Setty's latest masterpiece, "Smart, but Stuck," is an ode to all the brilliant minds that sometimes find themselves at a standstill. Dive deep into the reasons why highly capable individuals face hurdles and uncover insights from conversations with hundreds of brilliant minds spanning over six years. This book is not merely a read but an enlightening journey towards unshackling one's potential.

What You'll Discover:
Insights into why your strengths might not always shine through.
The reasons behind feeling undervalued or taken for granted.
Tools to overcome self-imposed barriers to social interactions, sharing, and handling criticism.
Personal stories from the author's own experiences as a serial entrepreneur and mentor.
About the Author:

Rajesh Setty, Silicon Valley's treasured "spark plug" for startups and scale-ups, is a polymath constantly creating ripples across diverse sectors. With co-founded startups worth over $150 million and mentorships valuing over $700 million, Rajesh has a unique lens on success and challenges. Beyond his role as an entrepreneur, Rajesh is an esteemed author and teacher, having penned popular titles like "Six Foot World" and offering courses such as "The Right Hustle." Dive deeper into his world at www.rajeshsetty.com/about/
What the Experts are Saying:

"Rajesh's insights offer a clear, kind, and transformative perspective on the challenges we face in doing meaningful work." – Tom Chi, Founding Team Member, At One Ventures.
"Getting stuck is a universal challenge, but this book offers the tools and insights to break free." – Dan Waldschmidt, Author of Edgy Conversations.
"Don't just read this book; let it become a guide to elevate your personal and professional journey." – Srikumar Rao, Author of Modern Wisdom, Ancient Roots.

Embark on a transformative journey with "Smart, but Stuck" and empower yourself to truly thrive. Available now on [your online store name].