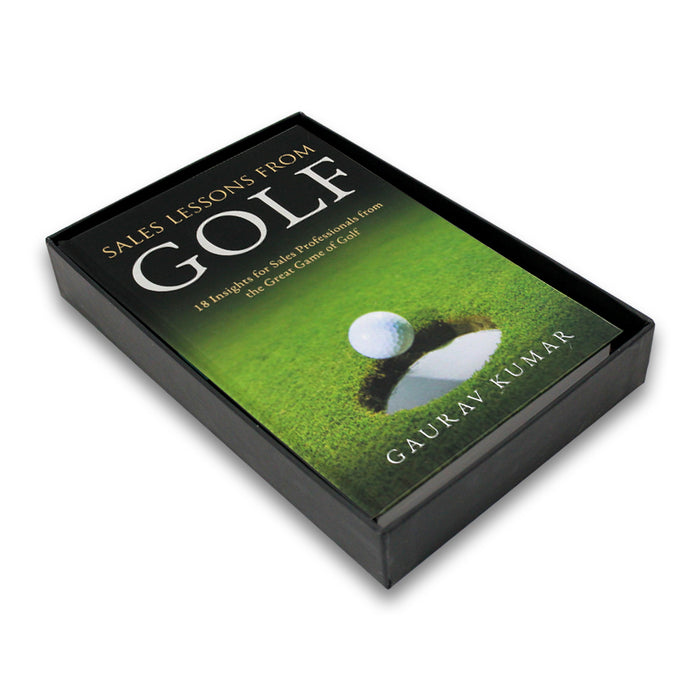 SALES LESSONS FROM GOLF (18 Insights for Sales Professionals from the Great Game of Golf )
Save

7

%
Original price
Rs. 1,395.00
Current price
Rs. 1,295.00
Special Edition!!!!!!!
There is nothing more exciting, or more dangerous, than a sales professional
who can attack the game of selling with the strategic mind of a golfer.
Gaurav Kumar lays down 18 powerful connections that can enhance your
sales game, as well as your golf game.
"Gaurav Kumar's singular focus and determination in successfully building Beyond
Codes should be a case study in Harvard Business School on how to build a technology
business that is deeply dependent on human interactions. Only a genius like him
could visualize such a hybrid model and make it happen. In this book he shares his
insights, using the game of golf as a metaphor." Ranjan Guha, President, Interra Information Technologies Inc."This easy-to-read book is a must-have for anyone in sales who plays golf. Now I'mseeing both golf and sales in a whole new way!" Brenda A. McCabe, Advisor, Chief, Next Act Advisors
"A great book for rookies, as well as for professionals. Easy to digest and keeps you interested in both golf and sales."  Abdu Mudesir.
"As soon as I began reading this book, I realized that reading this I would improve both
my selling skills and my golf game immensely. The insights are well structured and to
the point. It simplifies the concepts and gives advice you can put into practice right away. Highly recommended!". Rathapol Bhakdibhumi, CEO, General Electronic Commerce Services "The workbook section of this book blew me away. When a sales professional asks the prescribed questions of themselves and their teams, there is no way that their salesgame will not end up amplified. Kudos!" Nitesh Banga, CEO, Global Logic.
 About the Author
Gaurav Kumar is an entrepreneur, author, speaker, angel investor and an avid golfer, based in Southern California. Gaurav is the Founder and CEO of Beyond Codes, Inc., a global leader in Sales and Lead Generation for SaaS products and 
IT services.  Its clients include top 1000 companies of the world today. Beyond Codes delivers its services globally across all verticals and offerings. He is a sought-after speaker in sales and marketing conferences. Under his guidance, Beyond Codes has designed and delivered corporate workshops on Sales, Demand Generation and Digital Marketing. Gaurav's first book, Demand Generation Tweet, published in 2012, is a compilation of deep insights on the subject of demand generation. Gaurav is also the co-founder of YOGAFI, a revolutionary web-based organisation that delivers authentic one-on-one personalized Yoga sessions worldwide. Gaurav has a passion for helping founders in their startup journey. He is an active angel investor in dozens of startups across the globe. Gaurav is a proud alumnus of the Stanford GSB. He lives in South California with his daughter, Bani and their dog, Kaju. He can be reached at 
gaurav.kumar@beyondcodes.com.
Shipping : Same Day