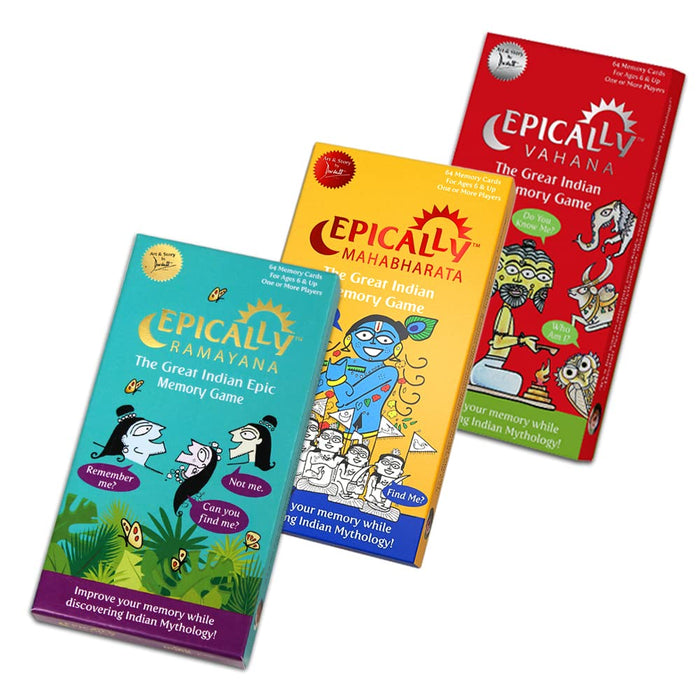 Epically Ramayana, Epically Mahabharata & Epically Vahana Memory Matching Game for Kids by Devdutt Pattanaik In English- Set of 3 Games
Shipped in 1 to 2 days
😊Get all the three Mythological Memory Games including our 🌟 Best Selling Games 🌟 Epically Ramayana & Epically Mahabharata and Epically Vahana.. for your children at one great price. • 🌟 Find the Pairs. Learn the Stories. Boost Your child's Memory.
• 👪 Great for kids and families. A fun filled engaging memory game, kids can play alone or play together as a family. Make learning Ramayana, Mahabharat and the mythological animal kingdom fun for kids by matching illustrations of the famous characters (art cards) with their descriptions and the stories (story cards). A Memory Game Your children (6 years plus) would love to play over and over again. Learn how to play in one minute and it takes anywhere between 15 to 25 minutes to play the game. Let's bring our children closer to our mythology and culture in a fun filled way.
• 😊 Art and Story by none other than Devdutt Pattanaik. India's favourite mythologist who has written more than 60 books on Indian Mythology and its relevance in present day context. His TV shows include Business Sutra on CNBC-TV18 and Devlok on Epic TV.
• Each Game Pack Contains 🎎 64 Memory Cards: 32 Art Cards & 32 Story Cards, large size made with sturdy and thick high quality paper to last long. Easy for children to play and handle. Illustrations drawn by Devdutt Pattanaik himself. Designed and Made in India.
• 🎉 A great conversation starter for kids on Indian Mythology . Once kids learn about various characters they will come to you for more stories about Ramayana, Mahabharat and the mythological animal kingdom. Your story time will suddenly get enriched with stories from Indian Mythology.
• 🌟A fantastic birthday gift or birthday return gift which will get used by children a lot. • Sturdy and compact box perfect to carry for travel and vacation. Easy to store, easy to clean.
• ✔️Love It or Return It Guarantee: We make all our games with great amount of love, thought and care. We care what our children read and how they come to embrace the Indian culture.
✔️But for any reason if you still don't like Epically Mahabharat Game. We will refund your order.
✔️Zero Question Asked. So go ahead and try it. And do let us know how you liked it. 
Shipping : Shipped on the same day .