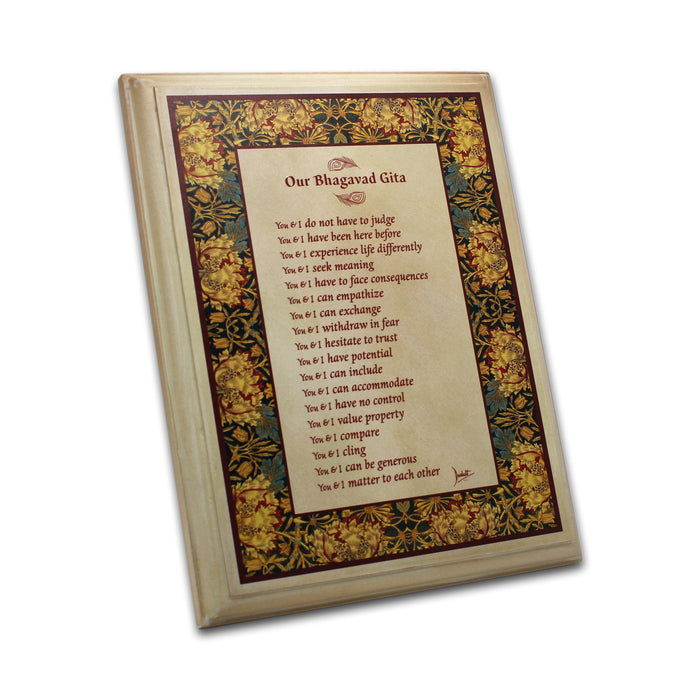 Bhagavad Gita Wall Hanging or Desk Art, 18 Lessons from Bhagavad Gita by Devdutt Pattanaik, Bhagavad Gita Wall frame, Inspirational Art for Office, living room, Study room, Home Office, MDF Wooden Plaque.
Save

Liquid error (snippets/product-badge line 32): Computation results in '-Infinity'

%
Key Features:
Dimensions: 10"x8" 
Material: MDF 
Colors: Hand Painted Long Lasting Colors with Protective Coating. 
Digital Printing: High quality direct UV Digital print with 2D gloss on text. 
Packaging: Fluted Corrugated Sheet. 
Installation: Just hang it on the wall or use the metal screws to put it on a desk. 
Description 
Bhagavad Gita is the greatest book known to mankind. Devdutt Pattanaik's interpretation of this sacred text resulted in his all-time bestseller, 'My Gita' by Rupa Publication that offers a roadmap to living a successful, joyous and a complete life. On popular demand, his 18 key take-aways from each chapter of the Gita are now available as stunning wall art or a desk plaque, to be kept in plain sight as a reminder for living one's best life everyday. 
Buy Two for 1890 
Why Choose This Inspirational Wall Art?
Lessons from Bhagavad Gita for everyday living: Often we forget our lessons when we read a good book but these beautiful art pieces serve as a visual reminder. It's not just about learning a great lesson but making it a part of our daily life. Place it in your home in the living room or Study Room or place it in your work place. 
Quality: High-resolution digital print with metallic foiling for a premium look.
Inspiring Design: A visual treat and a spiritual guide, all in one.
Great Gift Options
Often we worry about what to give to people. Gift that can really help them. This is an amazing gift to give to people who are inspired by Bhagavad Gita and wish to implement it in their daily life. 
About Devdutt Pattanaik 
India's most beloved best-selling author who interprets mythology for modern times, Devdutt Pattanaik has written over 50 books, one thousand columns, created three TV shows and presented numerous live lectures including on the TED stage. 'My Gita' is one of his most popular best selling books. For more on Devdutt and 'My Gita' visit www.devdutt.com 
About 'My India by Devdutt' 
Devdutt Pattanaik has exclusively partnered with Positively Perfect to create 'My India by Devdutt'—an exquisite collection of products inspired by Indian Mythology, to enhance daily living and expand one's mind towards limitless possibilities. Visit www.positivelyperfect.me for more information and to buy other products from Devdutt's collection. 
About Positively Perfect 
We are a product design and manufacturing boutique firm that makes world-class inspirational and motivational art, for personal use and gifting. We believe in the power of inspiration— that it is possible to become the best version of one's self, by surrounding ourselves with constant reminders that raise our consciousness and trigger our minds positively. For more information and to buy other products please visit