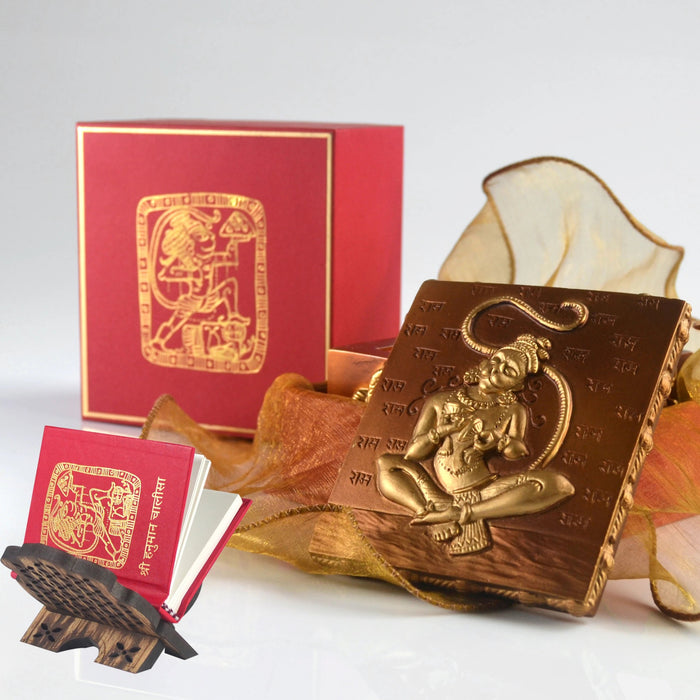 Hanuman Chalisa Gift My India by Devdutt
Save

20

%
Original price
Rs. 2,950.00
Current price
Rs. 2,360.00
Shipped in 1 to 2 days
Gift the Unforgettable
 Hanuman Chalisa or buy it for yourself.
A memorable gift for any festive occasion, auspicious ceremony; for someone starting a new venture, moving to a new house or office.

A Great Gift for a Hanuman Bhakt .

"Sankat kate mite sab peera jo sumirau Hanumat Balbeera." -
Problem ceases, pain goes away.
When one remembers hanuman, the mighty hero.

Millions of people read Hanuman Chalisa everyday to draw strength, courage, comfort and peace of mind.

My India by Devdutt brings to you this eternal prayer for positive energy in a artisanal miniature book nestled in its very own memorable case. 
Every doha, every chaupai is beautifully illustrated by Devdutt, India's favourite mythologist, author, and illustrator. Each Line in Hanuman Chalisa allows us to leap into the vast body of Hindu thought, a heritage of over 4000 years.

A Hanuman Chalisa book like no other. Carry it in your laptop bag, purse or keep it in its own memorable case in a Mandir or an office desk.

Sculpted Hanuman Chalisa Memory Box
This is no ordinary Memory Box. It embodies different aspects of Hanuman.  
We see Hanuman as a singer, singing songs in praise of Ram.
We see Hanuman as Bhima's teacher, teaching Bhima humility.
We see Hanuman as Ram's messenger giving Ram's ring to Sita.
We see Hanuman as a student of the Sun god doing Surya Namaskar.
We see Hanuman in his mighty form jumping across the sea to Lanka
We see Hanuman playing the Veena as a musician.
We also see Hanuman in his utmost humility despite all his talents, strengths, skill, intelligence, and creativity.
See the Video attached to know more.
Every Box of Hanuman Chalisa Includes
1. Carefully handcrafted using time-honored techniques this Hanuman Chalisa Box is made in Polyresin. This sculpted box is finished in High-quality metallic colors. Additionally we have given a protective coat on this box so the color will never fade or tarnish for years to come. 

2. Miniature Hanuman Chalisa Book with the entire Hanuman Chalisa both in english and hindi beautifully illustrated by Devdutt himself, hard bound and hand stitched for 180 degree flat open for easy reading.
3. Wooden Book Stand for Miniature Hanuman Chalisa. Keep it in your Puja Ghar or Mandir in Office or Home. 
4. Beautiful gift box with gold tissue cloth gift wrap.
(Every element is showcased in the images)
For Bulk Purchase & Reseller
Do you struggle to think of what to gift to customers, friends and family? A gift they will not pass on to some or put it away. Gift the Unforgettable Hanuman Chalisa to your customers, friend and family.  You gift will never go unnoticed. Call or Whats App 9810505171. or Email myindia@devdutt.com

About Devdutt Pattanaik
Best Selling Author, Leadership Coach, Mythologist Devdutt Pattanaik writes on relevance of mythology in modern times, especially in areas of management, governance and leadership. He is the author of more than 50 books and over 1000 columns with many bestsellers to his credit. He consults organisations on culture, diversity and leadership and also consults various television channels and filmmakers on storytelling. His TV shows include Business Sutra on CNBC-TV18 and Devlok on Epic TV.
My India by Devdutt Merchandise

This Hanuman Chalisa is a part of My India by Devdutt collection. Products deeply rooted in our rich culture and heritage spanning over thousands of years yet, in many ways, relevant even in our current context. Products you can use daily at work or home. Give it as a thoughtful gift to someone you really care about friends, family, customers. Every My India by Devdutt Product is made in India. supporting and promoting local business. Explore other products from My India by Devdutt Collection.