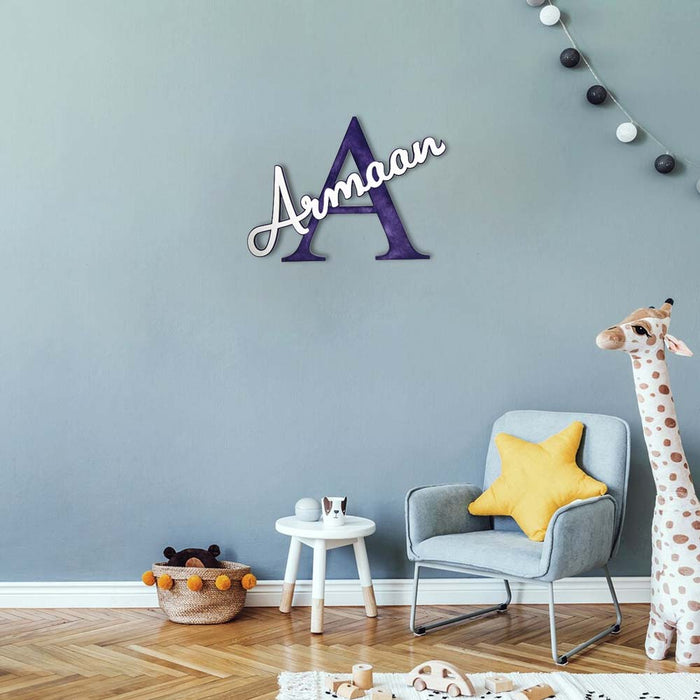 AmazingYou, Name Art for the Walls, Vibrant Violet
Save

17

%
Original price
Rs. 1,190.00
* Hand-crafted . Customised . Unforgettable.
* Create childhood memories for your young ones to grow up with. Nieces or
nephews, sons or daughters, cousins or best friends, an AmazingYou is
always unforgettable.
*AmazingYou adds joyous colour bursts to a child's space and marks it as their's.
*Handcrafted wooden decorative wall art, with the initial of a child as the base, and
their name hand-painted on wood as the top layer. Hang it on the wall or a door to
jazz up the space.
*A high-quality product that is lovingly hand-created with an extra coat of protective material for an ever-lasting finish, with an easy-to-hang metal
hook on the back.
*Makes for amazing gifts and Birthday Party Return Gifts.
*Available in 5 different colours Magnificent Magenta, Lovely Blue, Blissful Yellow,  Happy Turquoise, Vibrant Violet. Pick your favourite.
Dimension: Height 10", Width Varies based on the child's name.
How to Get your Own Personalised AmazingYou Product

Once you place the order for your the quantity you need. One of our team members will connect with you to get your child's name. We will create a digital artwork and show you once you approve it. The same will be put in production.
Please note we cannot change the font or the colour once the order is placed.
Also the angle how how the name will be fixed on the alphabet varies from alphabet to alphabet and based on the length of child's name.
There are no returns on this product as this is a customised product.
Bulk Purchase as Party Return Gifts
50 or more Personalised Name Art: Write to us at connect@positivelyperfect.me for best price and bulk discounts.