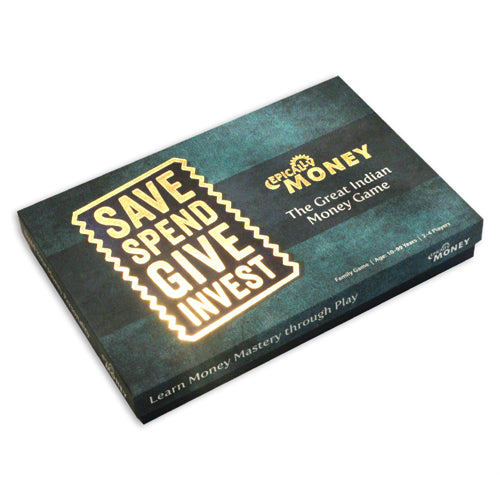 Epically Money | A Fun Way to Teach Children Decision Making about Money | Ages 10 to 99 Years | 2 to 4 Players
Shipped in 1 to 2 days
* Our children spend twenty plus years 🎓 studying in school and college learning how to earn money. ⭐️ But what about learning how to spend money? Epically Money, The Great Indian Money Game
A fun way to teach children Decision-Making About Money. Prepare them to live a happy and successful life no matter what the condition.
* As kids play the game, they will understand ♥️ how expenses come month after month, and you have to take care of them first. ♥️ How saving money is important and not every problem can be solved by taking a loan?. ♥️ How caring for parents, family, and friends is just as important? ♥️ How investing money is a smart choice?  ♥️ How having fun and making memories is what money should also be used for?
*👪 A game children can play together with friends or play as a family. A game where children make their own decision at every step. What do they really want to do with their money? Moments full of fun and laughter, interesting conversations around money.
* Epically Money. The Must-Play Game for Every Indian family. For Ages 10 to 99 Years. For 2 to 4 players. Playtime 20-40 minutes or more. It depends on the number of years you want to play at a time, more the number of years, more fun and learning guaranteed.
* Epically Money. The only money game in the market designed to teach our children decision making about money based on Indian culture and values. A game developed in collaboration with many many successful entrepreneurs from different fields, child psychologists, trainers, experienced teachers and financial consultants. 
* The only game where kids can win 🏆 trophies at the end of each play. 4 Miniature trophies included in the box.
Things Maestro Trophy One Qty
One Fun Collector Trophy One Qty
Savings and Investment Champion Trophy One Qty
Golden Heart Winner Trophy One Qty
* Every Epically Money Game Box Also Contains
120 Cards Total

Care 24 cards
Fun 24 cards
Things 24 cards
Savings 24 cards
Expenses 24 cards

4 Paper Wallets
1 Decision Dice
1 Annual Record Book
Money

Hundred notes of Rs. 2000
Hundred notes of Rs. 5000
Hundred notes of Rs.10,000
Fifty notes of Rs.50,000