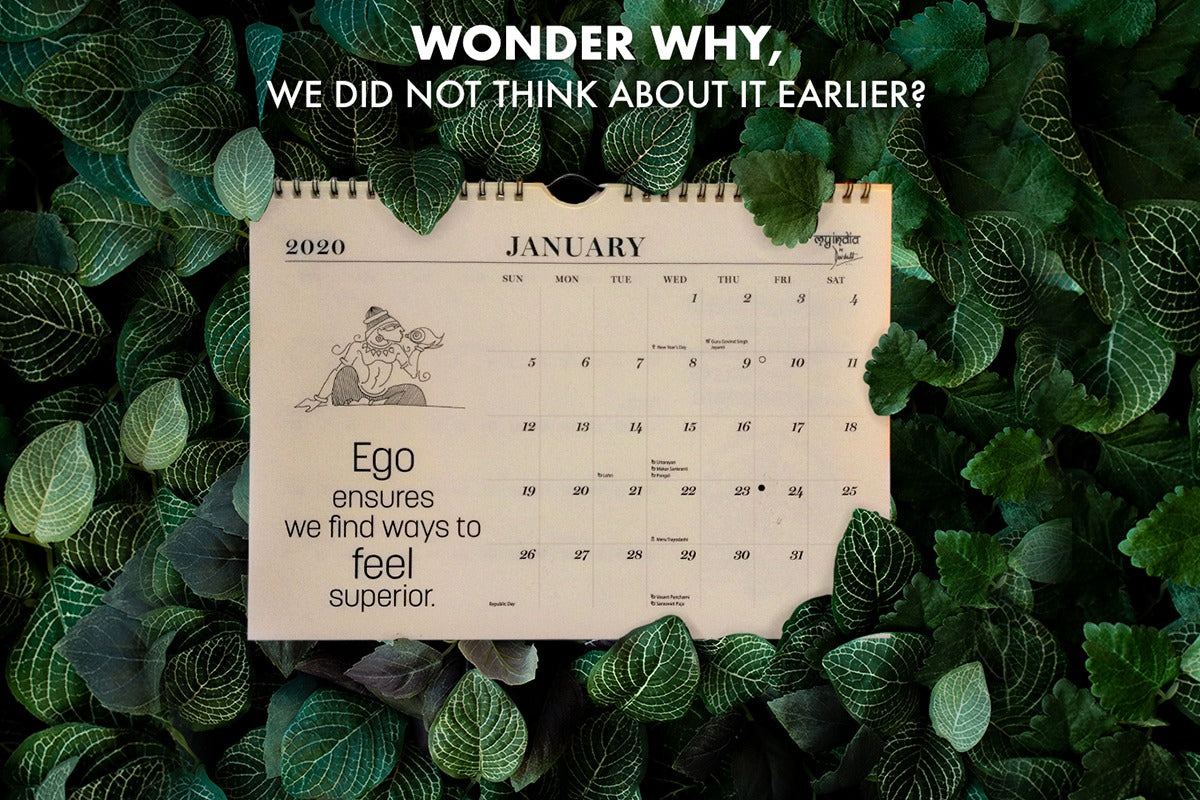 Wonder Why We Did Not Think About It Earlier?
Our New Launch, Inspirational Wall Calendar by Devdutt for 2020. Welcome each month in 2020 with an Inspirational and thought-provoking quote from Devdutt Pattnaik and his art. This makes for a beautiful and thoughtful gift for the special people in your life. It's an ideal addition to your home or office to inspire positivity and fulfilment. 
Many people don't know this, but all the artworks in Devdutt's book are hand-drawn by him. It makes the perfect gift for family, close friends, colleagues or even clients. It comes with no extra packaging or cover page and printed back to back to reduce the use of paper. 
Keeping our environment in mind, this calendar is specially designed with no lamination that harms our environment in the long run. Yes, trees are cut down for our calendar but to make up for it we have planted trees to offset more than double the amount of paper we are using to produce this calendar. 
This calendar is designed for the wall but it can also be used for the desk. Of course, keeping the minimalist thought in mind we have removed the additional thick stand which normally comes with a desk calendar. It stands pretty easily just as is.
DEVDUTT PATTANAIK'S INSPIRATIONAL QUOTES 
Each month comes with an inspirational quote from Devdutt Pattnaik himself. Inspire yourself and your loved ones to stay motivated. Make a positive impact on others. This Minimalist Inspirational Calendar is made with the idea of keeping paper use to a minimal and for inspiring change in people's lives. 
MINIMALIST CALENDAR
We use no extra packaging, no cover page for our minimalist calendar. All the months are printed back to back to reduce the use of paper. The calendar is not laminated as the plastic in the lamination does not decompose easily and eventually harms the environment.
ENVIRONMENT-FRIENDLY 
Even though trees are cut down to make the paper for our Inspirational Calendar, we have taken the initiative of planting a number of trees that will produce double the amount of paper that we are using for our product. 
HAND-DRAWN ART & INSPIRATIONAL QUOTES
A new year means new possibilities. This minimalist calendar contains 12 different thought-provoking quotes for all the months of the year. Many people don't know this but all the religious artworks in the calendar are hand-drawn by Devdutt Pattnaik himself. This adds a personal touch to the calendar making it an ideal gift. 
ORGANISED AND SPACIOUS
The calendar
contains fairly open grids of the dates to give space for little reminders every day. They will help you manage your life efficiently and achieve your goals perfectly this 2020! From your home to your office, this calendar helps you pause, reflect and take time for yourself.
FOR DESK OR WALL
Easily hang it on the wall of your home or office. Keeping the minimalist thought in mind, we have removed the additional paper cardboard stand, which normally comes with most desk calendars. However, with the durable wire binding, our sturdy calendar can be easily placed on a desk.