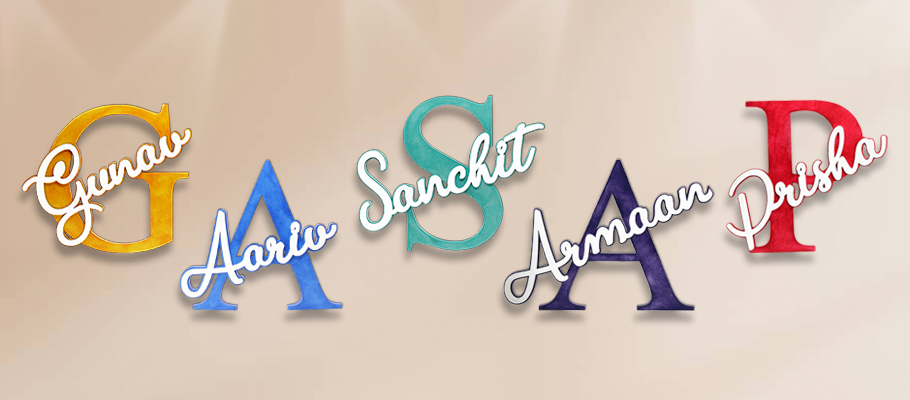 Elevate Every Birthday: The "AmazingYou" Personalised Wall Art That Every Child Desires!
Gifts are more than just items; they're memories, sentiments, and emotions all wrapped up and presented with love. And in today's world, where we often find ourselves inundated with disposable and fleeting presents, it's the lasting, heartfelt gifts that truly stand out.
This is where "AmazingYou" steps in, transforming every child's space into a personalized haven. But what makes this hand-crafted wall art truly unforgettable? Let's dive in and find out!
Hand-crafted. Customised. Unforgettable.
The words alone conjure feelings of warmth, love, and dedication. In every strand of wood, in each brushstroke, there's a promise - a promise to deliver not just a product but a keepsake. Whether it's for your nieces or nephews, sons or daughters, cousins, or the children of your best friends, the essence of an "AmazingYou" piece is eternal.
Imagine the glow on a child's face as they see a vibrant, beautiful representation of their name, meticulously crafted and painted just for them. With our "AmazingYou" wall art, you're not just giving them a gift; you're etching a memory, a piece of memory forever. 
More than Just a Name on the Wall
Every child is unique, with their own dreams, aspirations, and personality. So why should their gifts be any different? With the "AmazingYou" Personalised Name Wall Art for Children, every piece is a reflection of the child's essence, meticulously designed to capture their individuality.
Crafted from premium wood, each piece displays the child's initial as its base. But that's just the beginning. Layered above this is their name, hand-painted with precision and love, making it a standout piece in their room. And whether it's mounted on a wall or adorning their door, it serves as a constant reminder of their special place in the world.
Colours that Tell a Story
Children are vibrant, filled with energy and life. Their spaces should reflect this dynamism. And with six captivating colours to choose from, there's an "AmazingYou" piece for every child. 
 Magnificent Magenta Personalised Name Wooden Wall Art 
 Lovely Blue Personalised Name Hanging
 Blissful Yellow Personalised Name Wall Art
 Happy Turquoise Custom Name Wall Art for Children's Nursery 
 Vibrant Violet Personalized Name Wall Art, Great Birthday Gift 
 Pick your favourite. 
 A Gift that Grows with Them
 As children grow, their toys and clothes might change, but certain memories remain etched in their minds forever. The "AmazingYou" wall art is not just a present for today; it's a keepsake for tomorrow and forever. As they transition from toddlers to teens and beyond, this personalised piece will be a constant, evolving from a playful decoration to a cherished memory.
Perfect for Every Occasion
While the "AmazingYou" wall art makes for a perfect birthday gift, its versatility knows no bounds. Be it as a return gift at parties or a special present for a niece or nephew, it fits every occasion. After all, what's better than giving a gift that's truly one-of-a-kind?
Crafting Your "AmazingYou" Memory
At Positively Perfect we have made this process super simple for you. Just tell us their name, pick a color and place your order that's it.  With a digital artwork preview, you can be assured that what you see digitally is what you will get in person.
Click here to place your order today.