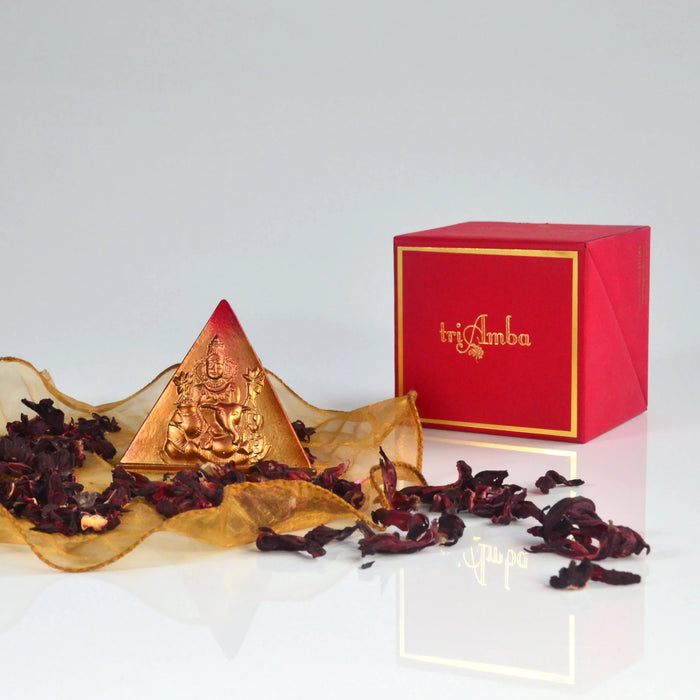 Triamba- Ganesh ji with Laxmi ji, Saraswati ji and Durga Maa, Unique Ganesha Idol, Small Ganesha Idol
Save

32

%
Original price
Rs. 2,500.00
Current price
Rs. 1,690.00
Triamba, beautifully sculpted and hand-painted gift. Pyramid-shaped Idol with Ganesha on all three sides with three Devi. On one side, we have Ganesh ji with Laxmi ji; on another, we have Ganesh ji with Saraswati ji , and on the third side, we have Ganesh ji with Durga Maa. The reason why we call it Triamba. This is one of a kind Happiness Pyramid where Ganesh ji is present with all three Devis in one Pyramid Murti.
To lead a happy life, we need all three, Laxmi, Saraswati, and Durga. The presence of Ganesha ensures that they come without any obstacles as he is the God who removes all obstacles. The pyramid shape is designed to remind us of the Hindu Trinity of Brahma & Saraswati, Vishnu & Laxmi, Shiva & Shakti.
You can easily keep it on your office desk or keep it in your home mandir. It's a great gift for any festive or auspicious occasion like Diwali, weddings, anniversary celebrations, someone starting a new business, or moving to a new office or house.
Triamba comes in its own beautiful gift box which makes the whole experience even more beautiful.
All illustrations are drawn by Devdutt and are being used with his permission. Triamba is a part of My India by Devdutt Collection. See other collection from My India by Devdutt. 

Each piece is beautifully handcrafted and painted and then coated with a protective coating for ever lasting finish. Just wipe with moist cloth to clean no tarnish no rusting no oxidation like metal idols. Colors stay intact. It takes a long time to create a single Triamba piece, it passes through multiple craftsmen and women who careful make every piece and finish it to perfection.

A great murti (idol) to keep at home mandir (temple), office mandir (temple), work desk, bed side table, book shelf. Its a perfect and compact size to place any where. 

Present this memorable and divine gift to friends and family or buy it for your own house. They will never forget your gift.
Shipped in 1 - 2 days
.