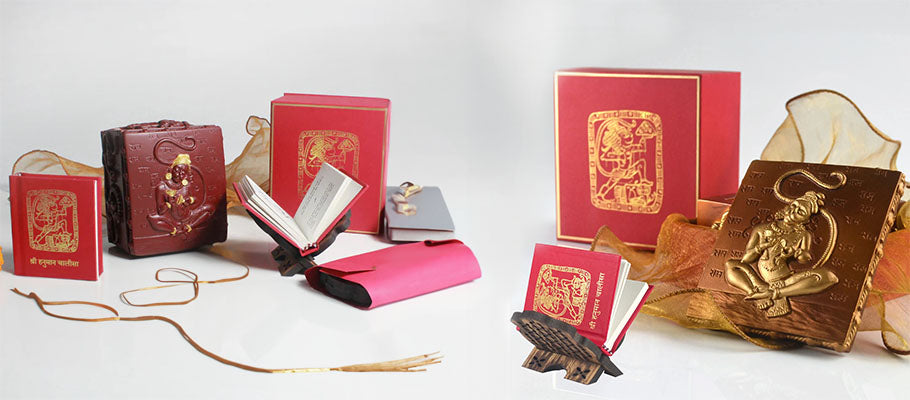 Gift the Unforgettable Hanuman Chalisa: Your Gift will never go unnoticed. A beautiful gift for Diwali.
"Sankat kate mite sab peera jo sumirau Hanumat Balbeera." - 
Problem ceases, pain goes away. When one remembers hanuman, the mighty hero.  Millions of people read Hanuman Chalisa everyday to draw strength, courage, comfort and peace of mind. In a world where the pace of life often distracts us from our roots and beliefs, Hanuman Chalisa serves as a grounding force. 
My India by Devdutt brings to you this eternal prayer for positive energy in a artisanal miniature book nestled in its very own memorable case. 
Every doha, every chaupai is beautifully illustrated by Devdutt, India's favourite mythologist, author and illustrator. Each Line in Hanuman Chalisa allows us to leap into the vast body of hindu thought, a heritage of over 4000 year. 
Hanuman Chalisa from My India by Devdutt is more than a gift; it's a gesture of goodwill, blessings, and positive energy. Whether it's a festive occasion, an auspicious ceremony, or someone embarking on a new chapter in life, this thoughtful present embodies wishes of strength, prosperity, and divine blessings.
A Token for Every Occasion
Whether you're celebrating a new beginning, an auspicious ceremony, or searching for a perfect housewarming gift, this Hanuman Chalisa ticks every box. Every follower of Hanuman ji would love and value this artistic creation of Hanuman Chalisa. And for those embarking on new journeys, be it personal or professional, what better blessing than that of Hanuman ji, the eternal symbol of strength and devotion?
A Hanuman Chalisa book like no other. Carry it in your laptop bag, purse or keep it in its own memorable case in a Mandir or an office desk. 
This is no ordinary case. It embodies different aspect of Hanuman ji's life and teachings from his devotion to Ram to his lessons of humility. Each portrayal serves as a reminder of the diverse teachings and virtues Hanuman symbolizes in our rich mythology.
We see Hanuman as a singer, singing songs in praise of Ram.
We see Hanuman as Bhima's teacher, teaching Bhima humility. 
We see Hanuman as Ram's messenger giving Ram's ring to Sita.
We see Hanuman as a student of the Sun god doing Surya Namaskar.
We see Hanuman in his mighty form jumping across the sea to Lanka
We see Hanuman playing the Veena as a musician.
We also see Hanuman in his utmost humility despite all his talents, strengths, skill, intelligence and creativity.
Unmatched Craftsmanship
Choose between the earthy terracotta with 24 Karat Gold highlights or the regal sheen of the Royal Gold finish. Each piece stands as a testament to the timeless artistry and craftsmanship, ensuring that your gift not only spiritually but also beautiful. 
Gift the Incomparable
In a world teeming with mundane and forgettable gifts, the Hanuman Chalisa Gift promises to be an unforgettable gesture. It's not just a gift; it's a cherished keepsake, a constant reminder of strength, devotion, and positive energy. Make your gift count. Gift the unforgettable Hanuman Chalisa from My India by Devdutt. 
Artistry Meets Devotion
Available in two meticulously crafted finishes,
Terracota with 24 Karat Gold Highlights
Royal Gold Textured Finish.
Ready to leave a lasting impression? Click here to buy your Hanuman Chalisa. Shipping available across India and globally.